Lovers Key State Park
Two and 1/2 miles of undeveloped Gulfocast Beaches, accessible by tram or boardwalk from the park entrance. Nationally acclaimed for its natural state and abundant wildlife, Lovers Key State Park is a great place to see endangered birds, gopher tortoises, and other original inhabitants of natural Florida. One mile south is "Dog Beach" – a beach front park friendly to dogs.
Where: 8700 Estero Blvd
Hours: 8 a.m. to sundown, every day
Cost: $5 per vehicle (up to 8 people) or $3 for one person
Web Site: floridastateparks.org/loverskey
Fort Myers Beach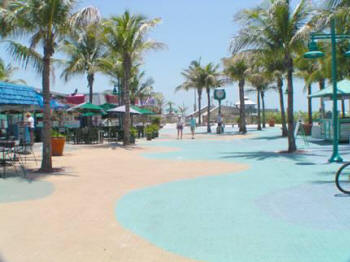 Looking for a little more interaction in your beach experience? Fort Myers Beach is for the active beach-goer. In addition to combing the beach for shells, you can shop and eat in the pedestrian friendly village square, stroll the pier, or try some adventure with beachfront sports right on the beach. Located on the north end of Estero Island, Fort Myers Beach is designed for family fun in the sun.
Where: Along Estero Blvd toward the northern end of the island
Hours: sunrise to sunset, every day
Cost: Free. Parking is $1/hour in designated spaces
Web Site: fortmyersbeachfl.gov
Bonita Beach Park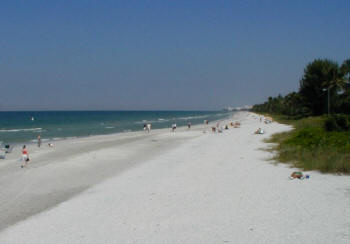 Featuring wide , white beaches directly on the Gulf of Mexico, Bonita Beach Park combines clean and accessible beachfront with clean and comfortable facilities in one of the most beautiful Gulfocast Beaches. Shelling, sunbathing, swimming and picnicking are favorite activities for all ages. Bonita means beautiful in Spanish, and this beach rings true to its name.
Where: 27954 Hickory Blvd
Hours: sunrise to sunset
Cost: Parking $0.75/hour
Web Site: leeparks.org
Barefoot Beach State Park Preserve
On one of the last, pristine barrier islands on Florida's southwest coast is 342 acres of natural land conserved as Barefoot Beach State Park Preserve. Over 8,000 feet of beach and dunes provide homes to seat oats, turtles, tortoises, and other native species of plants and animals. In addition to the natural landscape, the park has convenient concessions, facilities, shelters and equipment to make your visit the best it can be.
Where: 2 Barefoot Beach Blvd
Hours: 8 a.m. to sundown
Cost: $6 per visit (permits available)
Web Site: colliergov.net